Transforming lives
We believe that together we can do even more for society and transform the lives of many people in situations of social vulnerability.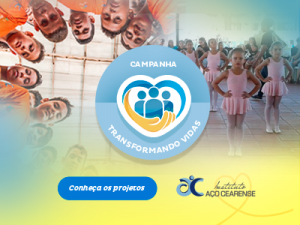 With more support, we can go further and Instituto Aço Cearense has the fundamental role of monitoring, assisting and distributing in the best possible way everything that is collected for these people.
Therefore, we want to invite you to be part of the transformation and support us to deliver more health, education, culture and sport for the lives of children, teenagers, young people, adults, the elderly and everyone who needs help!
Do you want to be a part of it? Come transform lives with us! Make your donation:
PIX:
11725750000147
Bank Transfer
INSTITUTO AÇO CEARENSE
CNPJ: 11.725.750/0001-47
Banco do Brasil
Agency: 03434-7 Account: 106.283-2
Improvement Platform
Donate through the Benfeitoria Platform with a credit or debit card, by clicking here.